We don't do this work because we love dogs, though we do. We don't do this work because our dogs love to work, though they do. We do this work because our detection dogs are the most efficient, most accurate, and least invasive way to collect crucial conservation data.

Megan Parker, PhD, Co-founder & Director of Research
Megan received a B.A. from Middlebury College and an M.S. in raptor ecology from Boise State University. She returned to her home state of Montana to earn a Ph.D. from the University of Montana in Wildlife Biology on the scent-marking behavior and territoriality of wild dogs in Botswana. She began pioneering training methods for conservation detection dogs in 1996. Megan has been involved in dog training, obedience, and search-and-rescue since childhood. She is interested in the international use of conservation working dogs to help under-funded projects acquire excellent data, reduce costs and preserve endangered species.
406 546 4530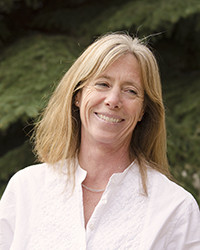 Deborah Woollett, PhD, Co-founder & Director of Conservation
Deborah received her B.S. in Biology from Saint Mary's College of California, a M.S. in Integrative Biology from the University of California, Los Angeles, and a Ph.D. in Wildlife Science from the University of Washington, Seattle. Her dissertation research focused on kit fox conservation and the evaluation of non-invasive monitoring methods (such as detection dogs) to obtain information on endangered populations. Deborah has published extensively in the conservation literature. In 2007, she and her co-authors were awarded the George Miksch Sutton Award in Conservation Research for publishing a paper that made an outstanding contribution to conservation biology in the southwest. Since 1991, Deborah has studied wild species ranging from ground squirrels to grizzly bears, while maintaining her focus on canids such as wolves, foxes, and coyotes. Deborah has a deep background in dog obedience, behavior, and detection training: she began working with conservation dogs in 1999 and has operated several highly successful canine development programs in the northwestern U.S.
Aimee Hurt, Co-founder & Director of Operations
Aimee received a B.A. from the University of Montana in biology, where her studies emphasized zoology, ecology, and entomology. She was awarded a fellowship to study the ability of dogs to differentiate the scats of black and grizzly bears. (She discovered that dogs can indeed distinguish the scats of these two closely-related species.) Aimee has worked with conservation dogs since 1998 and is passionate about training, field work and dog rescue. Her professional interests include studying the potential of canine olfaction, perfecting laboratory discrimination experiments, and ensuring that dog/handler teams remain highly trained and consistent in their work.
406 529 1943
Alice Whitelaw, Co-founder & Director of Programs
Alice received a B.A. in Biology from Warren Wilson College in North Carolina and an A.A.Sc. in Veterinary Medical Technology from Central Carolina Community College. She has worked as a field biologist for universities, NGO's and state and federal agencies since 1988, and has conducted wildlife research throughout the U.S., Mexico, Canada, and Russia. She has been involved in dog training for over 30 years and has focused on detection dog disciplines since 1998. Her professional interests include wildlife disease, carnivore behavior, endangered species restoration, and refining the training and use of detection dogs in wildlife research.
406 539 2893
Ngaio Richards, PhD, Forensics & Field Specialist
Ngaio is a forensic ecologist and conservationist. She obtained a B.Sc. in Environmental Science from Acadia University in Nova Scotia, an M.Sc. in Natural Resource Sciences with emphasis on applied wildlife biology and ecotoxicology from McGill University in Montréal, and a Ph.D. in Forensic Science from Anglia Ruskin University in the United Kingdom. She is currently a member of the Investigative Chemistry Research Group at Anglia Ruskin University and a Director of the Foundation of Analytical Science & Technology in Africa (FASTA). She has authored numerous papers and chapters on wildlife monitoring and conservation, and edited the textbook "Carbofuran and Wildlife Poisoning: Global Perspectives and Forensic Approaches." Ngaio is on the Faculty of Veterinary Forensic Sciences at the University of Florida (Gainesville), where she teaches several courses on critical thinking and risk assessment of veterinary agents in relation to wildlife and environmental health.
Henry Happel, JD, Board Member
Henry Happel was a founding partner of Mundt MacGregor LLP, a Seattle law firm, where he practiced corporate and commercial law from 1976 until 2001. Henry served as the CEO of DisplayLink Corp. in its early days and has been on its Board of Directors from its founding in 2003 through the present. He has also served in a management and Board capacity for several other start-up technology companies. A Houston native, he received a BA in Economics from Yale University in 1967 and a law degree from Stanford University in 1970. Prior to the formation of Mundt MacGregor, he was an attorney in the Office of the Assistant General Counsel for International Affairs, U.S. Department of the Treasury.
Melissa Richey, Board Member
Melissa has two decades of experience in non-profit and higher education major donor fundraising and institutional development. Her experience includes fundraising for the Wildlife Conservation Society's Global Conservation Program, Montana State University, and Duke University School of Law. Melissa earned an M.P.A. with a focus in nonprofit management from North Carolina State University. She currently works in philanthropy for the Greater Yellowstone Coalition.
Pete Coppolillo, PhD, Executive Director
Pete received a bachelor's degree with honors in Biology and Environmental Conservation from the University of Colorado and a Ph.D. in Ecology from the University of California, Davis. Pete worked with the Wildlife Conservation Society for 10 years, first at their New York Headquarters and then as part of the Africa and North America Programs. Pete has studied Ferruginous Hawks in North America, avian community ecology in Kenya, and large herbivore ecology and herding systems in Tanzania. He has helped plan and carry out conservation strategies in Bolivia, Ecuador, Argentina, Congo, Cambodia, Tanzania, and the United States. His publications appear in Conservation Biology, Biological Conservation, PLOS (Public Library of Science), Human Ecology, Landscape and Urban Planning, Landscape Ecology, and Science, and he is co-author of the book Conservation: Linking Ecology, Economics and Culture (2005 Princeton Univ. Press).
406 290 9453
Skye Plumb, Deputy Director of Operations
Skye received dual bachelor's degrees with honors in History and Anthropology/Archaeology from the University of Montana, where her studies focused on the historical archaeology of Montana and the history of international relations. She also received her Masters in Public Administration from the University of Montana with an emphasis on nonprofit management.
She grew up in Yellowstone National Park and has been involved with scientific and educational programs that further wildlife and environmental conservation since childhood. Based in Livingston, Montana, she has worked closely with several nonprofit organizations and has developed and implemented administrative procedures that have helped them achieve programmatic success. She is currently working towards a Masters in Public Administration from the University of Montana with an emphasis on nonprofit management.