Breed: Weimaraner mix
Joined our pack in 2015
Scents: 3, including the invasive weed thesium


Diesel was rescued from Labrador Rescuers of San Diego along with his buddy, Atlas. Turns out Diesel was never meant to be a California boy: we've discovered that he loves nothing better than playing in the Alberta snow, even if his handler makes him wear a coat. He is a canine acrobat who will leap, back flip, and belly-crawl in excitement and determination as he works. There is nothing he won't do for a ball, though he also loves playing Frisbee in the off-season. When he is not in the field, he is happy to curl up at his hander's feet or hang out at the office with his working dog pals.
To watch a video of Diesel's acrobatics, click here.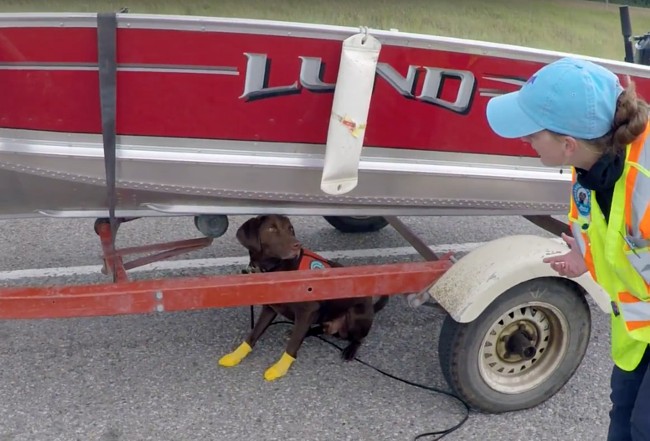 Diesel sits to alert his handler at a watercraft check station. Mussels detected!
© Alberta Environment & Parks Conservation K9 Unit